So over at Collected Editions there was a discussion on the New Frontier one-shot that Darwyn Cooke is coming out with in March and that prompted me to ask myself, "self (I love that gag), why have you not posted on The New Frontier"? Well I have no good answer so here you go.
All Material is from this site unless otherwise specified.

http://history.nasa.gov/factsheet.htm
"During the late 1940s, the Department of Defense pursued research and rocketry and upper atmospheric sciences as a means of assuring American leadership in technology. A major step forward came when President Dwight D. Eisenhower approved a plan to orbit a scientific satellite as part of the International Geophysical Year (IGY) for the period, July 1, 1957 to December 31, 1958, a cooperative effort to gather scientific data about the Earth. The Soviet Union quickly followed suit, announcing plans to orbit its own satellite.
The Naval Research Laboratory's Project Vanguard was chosen on 9 September 1955 to support the IGY effort, largely because it did not interfere with high-priority ballistic missile development programs. It used the non-military
Viking rocket as its basis while an Army proposal to use the Redstone ballistic missile as the launch vehicle waited in the wings. Project Vanguard enjoyed exceptional publicity throughout the second half of 1955, and all of 1956, but the technological demands upon the program were too great and the funding levels too small to ensure success.
You'll notice that Cooke's version of the rocket is much more stylized but somewhat similar to
the Viking rocket.
Cooke added the much more sci-fi fins to his rocket like the one to your left from the 1950 classic: Destination Moon.

A full-scale crisis resulted on October 4, 1957 when the Soviets launched Sputnik 1, the world's first artificial satellite as its IGY entry. This had a "Pearl Harbor" effect on American public opinion, creating an illusion of a technological
gap and provided the impetus for increased spending for aerospace endeavors, technical and scientific educational programs, and the chartering of new federal agencies to manage air and space research and development.
More immediately, the United States launched its first Earth satellite on January 31, 1958, when Explorer 1 documented the existence of radiation zones encircling the Earth. Shaped by the Earth's magnetic field, what came to be called the Van Allen Radiation Belt, these zones partially dictate the electrical charges in the atmosphere and the solar radiation that reaches Earth. The U.S. also began a series of scientific missions to the Moon and planets in the latter 1950s and early 1960s.
A direct result of the Sputnik crisis, NASA began operations on October 1, 1958, absorbing into itself the earlier National Advisory Committee for Aeronautics intact: its 8,000 employees, an annual budget of $100 million, three major research laboratories-Langley Aeronautical Laboratory, Ames Aeronautical Laboratory, and Lewis Flight Propulsion Laboratory-and two smaller test facilities. It quickly incorporated other organizations into the new agency, notably the space science group of the Naval Research Laboratory in Maryland, the Jet Propulsion Laboratory managed by the California Institute of Technology for the Army, and the Army Ballistic Missile Agency in Huntsville, Alabama, where Wernher von Braun's team of engineers were engaged in the development of large rockets. Eventually NASA created other Centers and today it has ten located around the country.
NASA began to conduct space missions within months of its creation, and during its first twenty years NASA conducted several major programs:
Human space flight initiatives-Mercury's single astronaut program (flights during 1961-1963) to ascertain if a human could survive in space; Project Gemini (flights during 1965-1966) with two astronauts to practice space operations, especially rendezvous and docking of spacecraft and extravehicular activity (EVA); and Project Apollo (flights during 1968-1972) to explore the Moon.

Robotic missions to the Moon Ranger, Surveyor, and Lunar Orbiter), Venus

(Pioneer Venus),

Mars

(Mariner 4, Viking 1 and 2),

and the outer planets

(Pioneer 10 and 11, Voyager 1 and 2).

Aeronautics research to enhance air transport safety, reliability, efficiency, and speed (X-15 hypersonic flight, lifting body flight research, avionics and electronics studies, propulsion technologies, structures research, aerodynamics investigations).

Remote-sensing Earth satellites for information gathering (Landsat satellites for environmental monitoring).

Applications satellites for communications

(Echo 1, TIROS, and Telstra)

and weather monitoring.

An orbital workshop for astronauts,

Skylab

.

A reusable spacecraft for traveling to and from Earth orbit, the Space Shuttle.
Early Spaceflights: Mercury and Gemini
NASA's first high-profile program involving human spaceflight was Project Mercury, an effort to learn if humans could
survive the rigors of spaceflight. On May 5, 1961, Alan B. Shepard Jr. became the first American to fly into space, when he rode his Mercury capsule on a 15-minute suborbital mission. John H. Glenn Jr. became the first U.S. astronaut to orbit the Earth on February 20, 1962. With six flights, Project Mercury achieved its goal of putting piloted spacecraft into Earth orbit and retrieving the astronauts safely.
Project Gemini built on Mercury's achievements and extended NASA's human spaceflight program to spacecraft built for two astronauts. Gemini's 10 flights also provided NASA scientists and engineers with more data on weightlessness, perfected reentry and splashdown procedures, and demonstrated rendezvous and docking in space. One of the highlights of the program occurred during Gemini 4, on June 3, 1965, when Edward H. White, Jr., became the first U.S. astronaut to conduct a spacewalk".
Project Mercury Goals
http://www-pao.ksc.nasa.gov/history/mercury/mercury-overview.htm
"Initiated in 1958, completed in 1963, Project Mercury was the United States' first man-in-space program. The
objectives of the program, which made six manned flights from 1961 to 1963, were specific:
To orbit a manned spacecraft around Earth;

To investigate man's ability to function in space;

To recover both man and spacecraft safely.
Specific studies and tests conducted by government and industry culminating in 1958 indicated the feasibility of manned space flight. Implementation was initiated to establish a national manned space-flight project, later named Project Mercury, on October 7, 1958. The life of Project Mercury was about 4 2/3 years, from the time of its official go-ahead to the completion of the 34-hour orbital mission of Astronaut Cooper. During this period, much has been learned about man's capabilities in the space environment and his capabilities in earthbound activities which enabled the successful accomplishment of the objectives of the Mercury Project in this relatively short period. It is the purpose of this paper to review the more significant facets of the project beginning with the objectives of the project and the guidelines which were established to govern the activity. As in any form of human endeavor, there are certain signs which serve as the outward indication of activity and progress. For the Mercury Project, these signs were the major full-scale flight tests."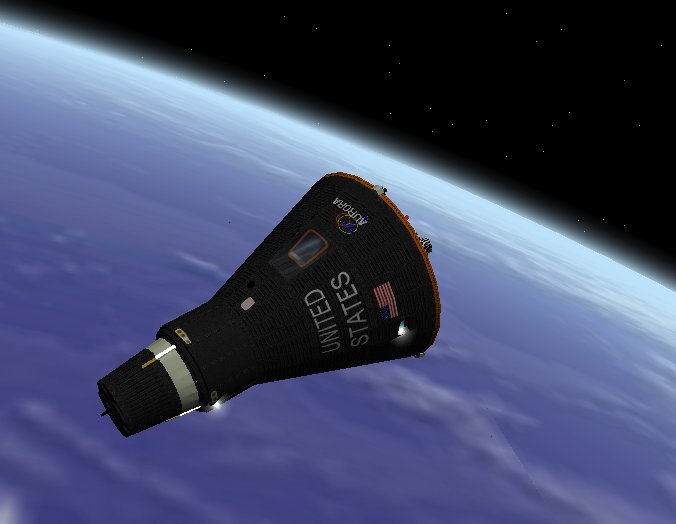 Now I love Cooke's New Frontier so much that even though I collect trades only, I will go to the store to pick up the one-shot. My friend and I, Great Scott (whose website is linked in friends), even did a podcast on the New Frontier that I will post one day.
If you have not yet read The New Frontier then you must be some sort of non-feeling robot or communist cyborg.